We can do invisible repairs on baths, shower trays and sinks.
Vitreous enamel, pressed steel, porcelain, mineral loaded polyester or plastic can all be handled.
Our Shine-a-Bath re-enamelling technician can repair chips, scratches and cracks in your bath, shower tray and sinks making your bathroom look like new.
Why spend more on a new bathroom suite when you can get your existing one repaired at a much lower price?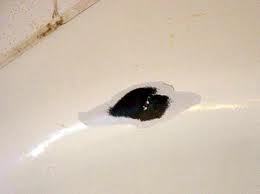 Burns
Most burns can be completely repaired using some of our fibre glass techniques. When damage has been repaired your bath will look as good as new.
Holes
Complete see through holes can be fully repaired using our fibre glass techniques. We can colour match to suit the shade of almost any fixture.
Scratches
Most scratches can be completely removed from your fixture using our state of the art polishing system.
Cracks
99% of all cracks can be completely repaired using our fibreglass system. We can colour match to suit the shade of almost any fixture.
---
There are a number of steps in the procedure:
First of all the area to be repaired is treated with an adhesion promoter to hold the filler in place. The chip is then filled and the filler faired off so that the original contour is restored. We then build the colour that this particular bath is. Every surface is different and every surface needs a unique custom-built colour. This colour matching by eye is a highly skilful art even if a repair is in white we will mix and match the colour on site as most white are not uniform. Some are quite a brilliant white and some are bluer, white etc., but we guarantee a perfect colour match. Once done we will fill and sand the chip and then spray on the new surface. We then dry it and polish it up.
  Is your bathtub or shower worn out and looking shabby?
  Do you have original bathroom fixtures and counters from the 60's or 70's in those outdated colours?
  Are you living with the previous owner's decorating scheme?
  Have you put off remodelling your bathroom because of the high cost or the disruption during the work?
If you answered 'yes' to any of these questions, it may be time to resurface in your bathroom